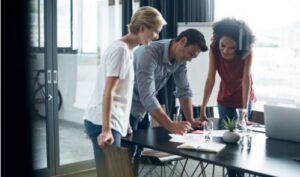 Microsoft 365 customers receive an always up-to-date version of the Office desktop applications.
First, a more detailed information these services is listed below:
Never buy a new version of Office again!
Each user can install Office on up to 5 PCs or Macs
Save to the cloud for backup and anywhere access
Use Office on your smartphone and tablet
Business-class email
50GB mailboxes
Send and receive messages up to 25MB in size
Use your own custom-domain for email addresses
Always up to date spam and malware protection
Available on Windows PC, Mac, Windows Phone, iPhone, Android, and Blackberry Online Meetings
Hold scheduled or ad hoc online meetings for up to 250 participants
Screen sharing, audio & video, virtual whiteboards, polls, and shared notes
Partners and customers can fully participate
Online document storage and file sharing
1 TB of file storage in the cloud with OneDrive for Business
Store, backup and easily share files, both within and outside your company
Simultaneously collaborate on documents with multiple authors
Files are accessible from almost any smartphone or tablet
Available without an internet connections on Windows PCs
Private social networking and collaboration
Social network that helps your company stay connected
Connect with customers and partners
Make faster, more informed decisions
With any service the second best aspect of it is knowing you have good support services. Microsoft 24/7 1st and 2nd level technical support is always available as you can see.
Technical Support
24/7 telephone support with 1 hour response time for critical, service impacting events
Online answers, how-to resources, and connections with Office 365 customer community
Simplified IT Management
Focus time on business critical activities instead of patching and maintaining servers
Business information lives in globally distributed datacenters Continuous backup and disaster recovery abilities
Financially backed SLA
Thirdly, most companies tend to build on technology rather than just using it. For those companies that like to develop and build, Microsoft has you covered in the next section below:
Microsoft 365 Development Support
Our dedicated Office experts provide support for all of the business solutions you've created in Office 365. Furthermore, this includes the use of out-of-the-box techniques as well as full custom development. Examples of development areas we support include the following:
SharePoint
SPFx Extensions
Power Apps
Web App Web Parts
JavaScript and jQuery
Nintex Forms and Workflows
Provider and SharePoint-Hosted
Add-ins
Third-party Integrations
Additionally, equally as important is the blending of technologies, ideas, and presence is what Microsoft stands by. Technology Solutions Worldwide with being a Microsoft CSP and a Microsoft Solutions Provider further allows the blend between technology and our expertise to shine through in the delivery of Microsoft products. See below as we give more information.
Join Your Business Expertise With Our Technology Expertise
In conclusion, at Technology Solutions World, with our Microsoft 365 Managed Services, we are all about dramatically improving the productivity of any organization we work with. Our expertise with Microsoft 365 and its suite of software products allows us to truly add value to the experience of our clients.
Moreover, the questions that should be asked is "Do you currently have or purchase Microsoft licenses for #Business , #Government , #Healthcare , #Education , #Nonprofit ?",  then stop paying the regular pricing. We offer all #MicrosoftLicenses at 25-30% below #Microsoft MSRP. We are also the only #MicrosoftPartner still honoring Microsoft pricing prior to the increase this year and still discounting it. Check out our Microsoft license pricing page to see the savings and get your discount subscription licenses TODAY here !  Our pricing cant be beat!
Likewise, we offer our 2 year price lock on all our pricing to all our clients. Moreover, this makes us one of the most uniquely priced Microsoft Partners to be found.
Find us on Microsoft App Source as a Microsoft Partner
Call us at (800)998-2792 or (470)208-1024