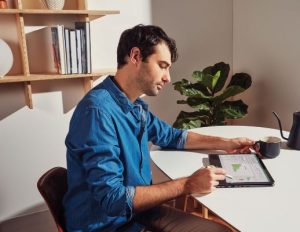 Microsoft Power BI is a cloud-based suite of business intelligence tools that will help you analyze and view data through compelling visualizations and interactive reports. All of your critical applications and databases stream into one dashboard, where you can easily create, update, organize and share powerful reports on any device.  Then, get actionable insights in real-time to give you a competitive advantage.
The parts of Power BI
Equally important, Power BI consists of several elements that all work together, starting with these three basics:
A Windows desktop application called Power BI Desktop.
An online SaaS (Software as a Service) service called the Power BI service.
Power BI mobile apps for Windows, iOS, and Android devices.
Power BI service
Uniquely, Power BI service is a secure Microsoft hosted cloud service that lets users view dashboards, reports, and Power BI apps — along with a type of content that combines related dashboards and reports — using a web browser or via mobile apps for Windows, iOS, and Android.
Power BI Desktop
Power BI Desktop is a free, self-service data analysis and report authoring tool that you install on a Windows computer. Plus, it can connect to more than 70 on-premises and cloud data sources to turn information into interactive visuals. Hence, data scientists and developers work with Power BI Desktop to produce reports and make them available to the Power BI service.
In Power BI Desktop, users can:
Connect to data
Transform and model the data
Create charts and graphs
Create reports and dashboards that are collections of visuals
Share reports with others using the Power BI service
Power BI Pro Service
Power BI Pro is a single user cloud-based software as a service application. Then, with Power BI Pro, you can share your reports, data, visualizations, and dashboards with the other users who have Power BI. With Power BI Pro Service is also charged on a per user basis.
Power BI Premium Service
Power BI Premium on the other hand caters to the needs of large organizations and enterprises. In addition, by contrast with Power BI Pro Service, this is charged for on a capacity basis. Put simply this is a combination of data size and computation capacity required. Nortable, Power BI allows for unlimited viewers of the data although creators of data visualizations must have a Pro license for Power BI.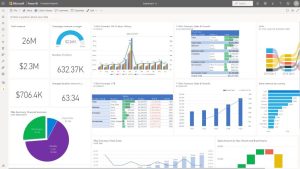 With Power BI you can…
Use natural language
First, query your data using natural language. Power BI goes beyond the normal expectancy of reporting tools software by permitting users to ask questions of their data without needing to learn complex query languages. In addition, as a question is typed or spoken, visualizations appear that are successively refined.
Collaborate effectively
Second, keep your team on the same page by uploading reports to the Power BI service. Likewise, distribute live reports and dashboards by email or text messages. Engage your customers and colleagues by sharing your data.
Transform data
Third, personalize report formats to suit your needs. With Power BI's data shaping and modelling capabilities you can transform and clean your data quickly and efficiently.
Act instantly
Fourth, set up user-defined alerts with email and messaging integration. Discover important insights in time and act on them instantly. With Power BI, you can access and interact with your data at any time and on any device.
Technology Solutions Worldwide is a global organization that is focused on the constant improvement both in quality and satisfaction. Equally as important is to know that we have offices all over North America, Central America, South America, and the Caribbean.
Furthermore, for more information about Power BI licenses, contact us !
Inquiries
For any inquiries, please call: (800) 998-2792
Email – info@techsolworld.com
Get started with The different Microsoft Power BI licenses.