Azure Active Directory (Azure AD) also known as Microsoft Entra ID is a cloud-based identity and access management service. This product enables your employees access external resources, such as Microsoft 365, the Azure portal, and thousands of other SaaS applications. Azure Active Directory also helps them access internal resources like apps on your corporate intranet, and any cloud apps developed for your own organization.
Active Directory in Azure, is now called Microsoft Entra ID, is an enterprise identity service that provides single sign-on, multi factor authentication, and conditional access to guard against 99.9 percent of cybersecurity attacks.
Features
Single sign-on simplifies access to your apps from anywhere.
Conditional access and multifactor authentication help secure data.
A single identity control plane grants full visibility and control of your environment.
Governance ensures the right people have access to the right resources, and only when they need it.
Get secured, adaptive access
Help protect access to resources and data using strong authentication and risk-based adaptive access policies without compromising the user experience. Secondly, transfer data between applications securely and effectively.
Offer seamless user experiences
Provide a quick and easy sign-in experience to keep your users productive, reduce time managing passwords, and as a result, minimize friction.
Unify identity management
Centrally manage all your identities and access to your applications, whether they're in the cloud or on premises, to improve visibility and control.
Simplify identity governance
Ensure that only authorized users have access to apps and data for users and admins with efficient automated identity governance.
Unify your identity infrastructure management
Simplify the experience of managing and securing your entire identity infrastructure—including Azure AD—with the Microsoft Entra admin center.
Select the best option for your identity needs
Explore identity and access management products and pricing
Microsoft Entra ID is the new name for Azure Active Directory (Azure AD).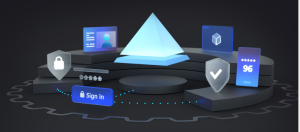 P1 is available as a standalone or included with Microsoft 365 E3 for enterprise customers and Microsoft 365 Business Premium for small to medium businesses.
AD P2 (is Entra ID P2) is available as a standalone or included with Microsoft 365 E5 for enterprise customers. Despite the name change, this version of Azure AD is now called Entra ID P2 is the most comprehensive of the on-premise version of the product.  Formerly, Azure AD P2 was limited by the functions in the cloud. However, with the massive move towards cloud technology and moving away from on-premise systems, Azure AD P2 has beefed up its intensity and security.
Governance
Because governance is important, Microsoft sees this as an integral part of the product line.  This is an advanced set of identity governance capabilities available for Entra ID P1 and P2 customers.