Build collaborative classrooms, connect in professional learning communities, and connect with colleagues with popular applications like Teams, Outlook, Word, PowerPoint, Excel, OneNote, School Data Sync and more.
Transform the classroom
Keep students focused on learning and increase collaboration, skills, and independence. Help teachers save time on everything from lesson planning to tracking grades.
Provide accessibility tools at no extra cost
Improve reading, writing and math's at scale with easy access to free Office 365 Education and Learning Tools that give students of all abilities independence and the opportunity to learn without stigma or pressure.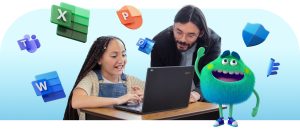 Affordable and versatile devices that work within your budget
Provide students with equipment that will help inspire their learning, not hinder it. We can provide your students access to future-proof, ruggedised and affordable laptops designed for the classroom.
Tools for teaching and learning in Microsoft Teams
Keep your classrooms organized and bring content, assignments, conversations and apps all together into one place where students and teachers can collaborate.
Explore educational plans
Check out an overview of our three tiers of academic plans: A1, A3, and A5. Then, talk to the experts on our sales team who can guide you through the costs and benefits of each plan. Start accelerating learning for all students today.
Microsoft 365 A1
A simple, one-time-per-device learning solution for modern workloads. Save time by managing all devices in a single dashboard.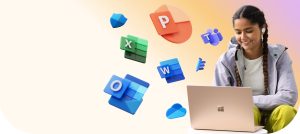 Microsoft 365 A3
The right solution for institutions that need all the A1 features, plus desktop apps, advanced security, and analytics.
Microsoft 365 A5
Our most comprehensive plan features everything A3 offers, plus streamlined licensing, security, and management tools.
Technology Solutions Worldwide is a global organization that is focused on the constant improvement both in quality and satisfaction. Equally as important is to know that we have offices all over North America, Central America, South America, and the Caribbean.
Inquiries
Website: https://techsolworld.com/
For any inquiries, please call: (800) 998-2792
Email – info@techsolworld.com