Microsoft Intune
is a cloud-based service that focuses on mobile device management (MDM) and mobile application management (MAM). You control how your organization's devices are used, including mobile phones, tablets, and laptops.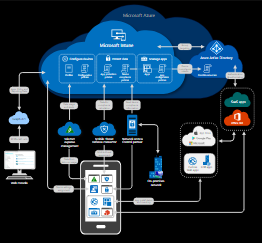 You can also configure specific policies to control applications. For example, you can prevent emails from being sent to people outside your organization. Intune also allows people in your organization to use their personal devices for school or work. On personal devices, Intune helps make sure your organization's data stays protected and can isolate organization data from personal data.
What does
Microsoft Intune
 do?
Microsoft has identified a number of business issues that Intune can address. Those include the ability to protect on-premises email and data — including Office 365 mail and data — so mobile devices can safely access them. The company said the Intune app also helps organizations issue corporate-owned phones, offer a BYOD or personal device program and provide limited-use shared tablet PCs to task-oriented workers. How
 does
Microsoft Intune
work?
In Microsoft's approach to managing mobile devices, Intune uses protocols or APIs available in mobile operating systems to execute tasks, such as enrolling devices. Enrollment lets IT personnel maintain an inventory of devices able to access enterprise services. Other tasks include configuring mobile devices, providing certificates and Wi-Fi and virtual private network profiles, and compliance reporting with regard to corporate standards. Intune integrates with Azure Active Directory to provide access control capabilities. How to use Microsoft Intune? The common practices of ways to use Microsoft Intune:
Protecting your on-premises email and data so it can be accessed by devices safely
Protecting your Microsoft 365 email and data so it can be accessed by devices safely
Offering a 'bring your own device' (BYOD) program to all employees
Issue corporate-owned devices such as laptops, tablets and phones to employees
InTune Features
Microsoft Intune Features: Microsoft has solved the problems inherent in today's sprawling IT networks. Therefore, the issue is that employees are working across their personal devices and attempting to access corporate data from anywhere they want to work. This has presented us with unique challenges and opportunities. Intune is simply the best answer for solving these issues. Microsoft Intune features include seven important benefits for any business: 1) The software protects company-managed devices, allowing IT managers the ability to control access to corporate data. There are a number of remote actions that can be accomplished through the Intune portal, from device lock, data encryption, passcode reset – or a full wipe for stolen or lost devices.
2) Intune also protects employee-owned devices and partitions work from personal data. Employees have the option to register their own devices and install company-approved applications from a self-service portal.
3) Intune protects 3rd party devices from Apple, Google, Microsoft, Samsung, and more, allowing management of mobile devices, as well as PCs and applications.
4) Intune also makes it easy to set and define policies via a single admin portal that allows rules configuration and device management. From this hub, you can update security, scan computers for malicious software, track end-user activity, and more.
5) The Intune System Center Configuration Manager can control PCs, Macs, and Unix/Linux based servers and mobile devices, all in a centralized portal. It also lets you run reports to understand hardware and software configurations better.
6) Intune allows granular control of Office 365 and other applications, allowing IT admins to restrict access to email or OneDrive business documents if the user logs in from an unenrolled device.
7) An Intune subscription comes with Microsoft worldwide support network by phone and online.
Intune is included in the following licenses:
Microsoft 365 F3
Intune for Education
Intune makes it easy for businesses to keep data safe and maintain industry compliance while allowing teams to work how they want, where they want. Contact Technology Solutions Worldwide to see Intune in action.
Inquiries For any inquiries, please call: (800) 998-2792 Email – info@techsolworld.com